Hey Everybody!! I am new here, so I just wanted to start out by posting a thread on what I am doing with my CRF 230F right now.
I am 15 years old, so I decided to take my brother's dirt bike when he moved away to college. It is a stock 2003 model, so I didn't really now how much it would take. It took a lot of abuse from jumping it 41 Feet in my friends wheat field to racing up and down my friends river bed. The bike has stood up to everything I have thrown at it, but I decided it is finally time to fix it up before I go ride in the Desert 100 Race up in Odessa, Washington next spring.
I found out a few weeks ago that I had broke my Front Brake Master Cylinder, along with some small things like a blown fork seal and torn off handlebar grips. I have been ordering parts this week to start fixing it up, but I don't have the money to order the parts all at once. The rebuild process is going to take at least a couple months. I am also going to make it street legal for riding back and forth from school and work though, so that is going to take some time to get the money also.
Here are some pictures of the Dirt Bike without any body panels on it.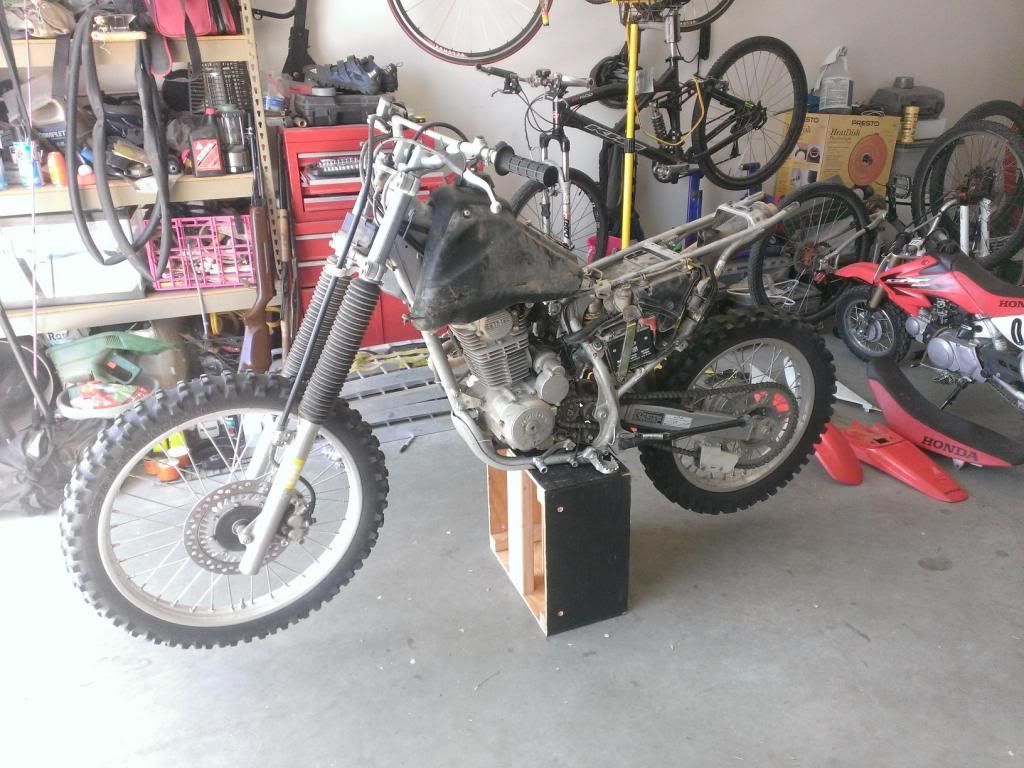 I ordered a Venom Motorcycle Lift/Stand so I don't have to keep my Dirt Bike on a wooden stand I made. Once I get that in next week I am going to take the Fork and Rear Shock off so I can take them in to get fixed. On the Fork, I am having the seals and oil replaced along with some stiffer springs. I am also going to have the guys put a stiffer spring on the rear shock.
I don't have many pictures right now, but I will be working on the bike tomorrow morning after I get done working in the garage and in the pasture, so I will try and post more updates tomorrow!!